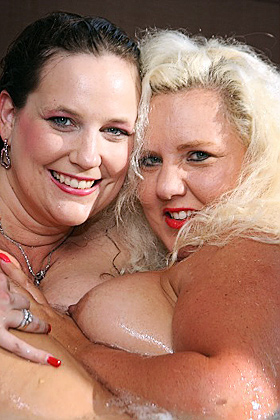 Belle SC2 & Lorie
Smoky Mountains Bash I - Part 4

It is only fitting that this bash be featured this week because next week at this time I will be at the Smoky Mountains Bash III for new bash photos. Check the Schedule Page to see the attendees at this year's Smoky Mountains Bash.
This was a great little bash hosted by Amber Dawn SC3 in the Smoky Mountains. There was great scenery and good times were had by all. The attendees were: Amber Dawn SC3, Belle SC2, Blue Eyes SG, Bone Breaker, Decadence SC2, Devlynn, Jamie Lynn, Kathy SC4, Lorie, Peaches SC3, Sweet-n-Sassi SC4, and Vivian SC3.
There was lots of action and except for being a little chilly, everyone one had a great time. Of course, the chilly weather did make those nipples stand up and take notice which makes for some great boob shots. There was a lot of action at this bash, so be sure and click on each of the attendees names above to see the action as their photographs caught it. I know that you won't be disappointed.
This is the fourth and final of four updates in this series.
Enjoy!!!