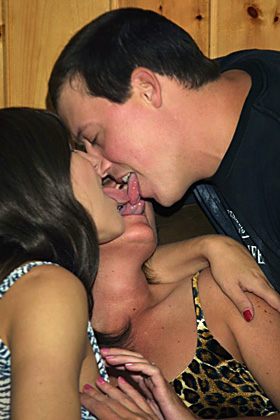 Gatlinburg Mini-Bash IV - Part 3

Well there was another great Gatlinburg Mini-Bash. This is a small intimate gathering held annually by some of the Charms and Gents. This year's attendees were Abbie SC3, Amber, Austin SC3, Champagne SC1, Diamond Girl SC1, Fantasia SC1, Mirage SC4, Southern Voyeur SG, and Toolman.
There is a lot of solo action, toy action, girl/girl, girl/guy, group sex, etc. in the updates. There are a total of four updates in this series with one more to come. All the attendees put in hot performances as they shot updates for their individual sites so be sure and check them all out by clicking on any of their names above. All the Happenings updates can show you is just a smidgen of all the action that took place (you can only be so many places at one time - even with two photographers on-hand).
A good time was had by all and Angie and the SC videographer also attended to help with the photography and making the bash videos for the new Southern Charms Video Website. Most of the photos for these updates were taken by Angie with some of my photography thrown in as well. The videos from the Gatlinburg Mini-Bash will be available soon on the video site.