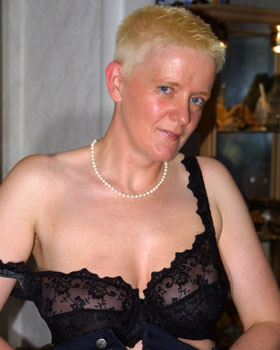 Carina Revisited

Carina SC1 is from Belgium and I met her during my trip to Europe. She and her husband were kind enough to give me a place to stay and then invited friends over for some hot photo shoots. Carina and her friend along with her husband put on a very hot show. You will need to check Carina's site on Southern Charms I to see that hot session. It is a threesome with Carina's husband and a female friend with both of them vying to be the person to satisfy him. To see the threesome update plus any of the other hot action that Carina has been involved in just click on her name ;-).
Of course, Carina gets down and dirty in her Happenings update as well as she lets her fingers do the walkin' and talkin' to bring herself pleasure. I hope that you enjoy the photos.
Now, on to Carina's interview.
Lord Hardcore: How old are you?
Carina: I was born on 12th March 1960.
Lord Hardcore: Where are you from?
Carina: I live in Belgium, more specific in the Dutch speaking part, near to Kortrijk.
Lord Hardcore: Please tell us a little about yourself?
Carina: I was born in Germany (Cologne). After living for 30 years in Germany I met my husband and we moved to Belgium. I am happily married, and we have two sons.
Lord Hardcore: What was it like growing up and what are some of your likes and dislikes?
Carina: Like I mentioned above I grew up in Germany. I used to be quite a good swimmer (was almost selected for the Belgian Olympic team). I still like to swim a lot but also I discovered the fun in working out during the last few years. I go to the fitness center at least twice a week and I am quite happy with the result.
Also I like to meet new people! To make new friends. I don't really care how people look as long as if they are honest and if they take care of themselves. That's why I don't like hairy privates. They don't need to be shaven completely (although that's my favorite) but a good trim makes a lot of difference. I shave mine twice a week, also my husband shaves regularly. The feeling when I make love with another person is so different when one is shaved that I can not understand that one can not shave, but that's my opinion of course.
Lord Hardcore: Please tell us a little about that first experience?
Carina: It started with the usual kissing and feeling. From one thing came the other and after a while we had sex. As we were both quite young and not experienced at all it did not take long before he came.
Lord Hardcore: Have you had a girl/girl experience?
Carina: Yes during the last years I met lots of great bi-sexual woman. I really enjoy making love to woman. I can not imagine that when I was young I could not believe that one day I would go to bed with another girl. During a trip to London we slept with some other friends in a small hotel. The owners were lesbians and one was very attracted to me. She tried several times to seduce me but I wasn't interested at all, in fact I was offended. When I look back now I regret not having had sex with her. It was only at the age of 35 that I had a first bi-encounter with a French girl. But over the last years I lost count of my girl - girl encounters.
It started during a private party. We danced together and we had much fun. Suddenly, I really don't know how it happened we were kissing very passionately. We did not care what the other people were thinking at all. I just felt very proud and when I looked at my husband I saw that his wish had come true!
Nowadays I have several girlfriends to whom I have very deep feelings for. In fact if ever (but God forbid) that something would happen to my husband, I could not imagine to live again with another man at all.
Lord Hardcore: Have you ever had sex with more than one partner at the same time?
Carina: Oh yes on several occasions. I love group sex. The ideal group for me consists of two women (me and my girlfriend) and six men. Three guys per girl! My record stays actually at eight guys at the same time. I had a hard time satisfying them but I succeeded. Also from time to time we go to private parties and of course at a certain point during parties turn out to be a giant orgy.
Lord Hardcore: What is your favorite sexual fantasy?
Carina: One of my unfulfilled wishes is to be in a place filled with only lesbian or bi-sexual girls (dozens and dozens). To be able to satisfy them all, kissing and licking and hugging.
Another fantasy (that soon will be for filled) is to be on a stage, before a crowd! I will be on stage at the Erotic Happening in Gent, Belgium. I will be the main act on a bondage and SM demonstration happening. Pictures will be available after this show.
Lord Hardcore: Is there anything else that you would like to say to your fans that I didn't cover above?
Carina: I am still looking for other models to do erotic shoots. Also well shaped guys who are not afraid to show themselves are welcome.