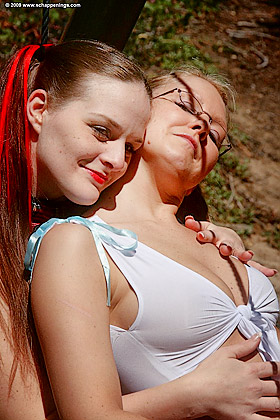 Chastity SC2 & Kimber Foxxx SC2
California Bash II - Part 1

California Bash II was held April 23-26, 2009 in the Lake Tahoe area where a very hot time was had by all. This bash was hosted by Nadeleine SC2. The attendees were Absolutely Yummy SC3, Akira SC2, Autumn SC2, Blue Eyes SG, Chastity SC2, DDDesire SC4, Gabrielle SC1, Kimber Foxxx SC2, Kitty 4U2 SC4, Mandy SC4, Nadeleine SC2, Samantha SC1, ShugarNTexas SC1, Southern Sephora SC1, Tina Marie SC3, Trisha Lynne SC1, and Violet Crush SC3.
Check out the SC Happenings video page as well as the videos on the individual Charms' and Gents' video pages for videos from other bashes.
We are now videotaping the Southern Charms Bashes.


Be sure and visit all of the Charms and Gents sites on their respective Southern Charms web sites by clicking on any of their names above. There was a lot of hot, hardcore action at this bash which you won't want to miss. There was loads of solo, masturbation, toy play, girl/girl, girl/guy, girl/guy/girl, threesomes, etc. I know that you will want to see all the action. Here on Happenings you just get a sampling, but you get to see all the hot updates in all their glory on each of the respective Charms and Gents sites. All you have to do to see the individual Charm's and Gent's updates from Florida Bash V is click on their names where they appear above.
Most of Charms did some very hot videos and they are available on their individual SC Video Site pages. Each of the Charms with video pages will have the links on their respective sites or you can go directly to the Southern Charms Video Site and check out what all the Charms have to offer.
Check out all of the hot action in this action packed four-part Happenings bonus series.
Enjoy!!!