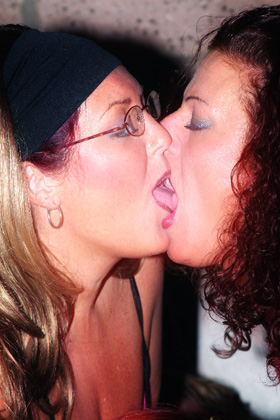 Peaches SC3 & Niana SC4
California Bash I - Part 2

California Bash I was held March 8-11, 2007 at Helios, a gay men's resort in Palm Springs, California and was ran by Izzy SC1. Enough can not be said about our hosts at Helios. They are very adult industry friendly and rolled out the red carpet for our Southern Charms California Bash. They provided us exclusive use of all their resort facilities for our special function and treated all the Charms and Gents like queens and kings.
The attendees were Autumn SC2, Blue Eyes SG, Brenna Witch, Busty Deelite SC4, Charlie SC3, Cinnamon SC1, Hanna, Hayden, Ivy SC1, Izzy SC1, Lizz, MadiJane, Mandy SC4, MoonAynjl SC4, Niana, Peaches SC3, Samantha SC1, ShugarNTexas SC1, Tiffany, and Zoe Zane SC2. A great time was had by all and there is lots of hardcore action in the coming California Bash updates.
Be sure and visit all the attendee's individual Southern Charms sites for their updates from the California Bash. All you have to do is click on any of the attendee's name above to be transported to their individual sites. Keep in mind, all I can show you is a fraction of all the action which takes place at a bash. There are hundreds of photo shoots going on at the bashes so that makes it physically impossible to give you anymore than a sampling of all the action here in the pages of Happenings. ...and the action was hot so please take the time to visit all of the attendees web sites.
We also did 15 bash videos during the event and you can find them all on the SC Happenings' Video Page on the Southern Charms Video Website.


Southern Charms Bash videos are available!!!
Enjoy!!!
Here are the videos offered on the SC Happenings Video Page for California Bash I:


California Bash 1
9min - 148.9 meg - 720x480


California Bash 1

Join Charlie and her biker stud in a little outside S&M. He blindfolds her and then ties her to the X-cross, but that's not all. She gets the ball gag, too. But it doesn't stop this naughty girl from moaning and rubbing up and down while he fingers her wet kitty. See the rope in her kitty while his fingers are getting her off. Talk about finger-licking taste-so-good!



$9.00


California Bash 2
5min - 85.0 meg - 720x480


California Bash 2

ShugarNTexas SC1 and Cherry Satine SC4 start off the night licking and kissing. They get so embarrassed the camera caught them, they giggle but soon return to their naughty behavior. Watch them moon you and show you their cunt. A very playful and hot rubbing experience. Enjoy!



$5.00


California Bash 3
13min - 197.5 meg - 720x480


California Bash 3

Hayden SC1 is awesome at giving great head said the hotel supervisor. This whole video is for the any who likes watching Hayden give some head. Then she makes him finish jerking while she BEGS for that load. Watch as she get all the cum in her mouth and then JUMPS for joy for a head job well done!



$13.00


California Bash 4
7min - 119.1 meg - 720x480


California Bash 4

Come see Hayden and Izzy from SC1 smiling for the camera in there photo shoot for SC. See the girls get turned on my each other while trying to keep it together. This is not a hardcore or pink showing video. This video is strictly for the ones who like seeing the girls posing! ENJOY!



$7.00


California Bash 5
11min - 169.4 meg - 720x480


California Bash 5

Ivy SC1 is getting some great attention form her SG stud Tyler. Starts out with a make-out session, then quickly moves to some hot raunchy coochie eating. A nice long blowjob then some hard doggie style banging. Enjoy!



$11.00


California Bash 6
17min - 263.8 meg - 720x480


California Bash 6

Ivy SC1 and Cinnamon SC1 sneak out to the pool in some white t-shirts and bottoms. After playing awhile in the water; clothes start coming off and titties start to bounce. See these bbws get caught up in some hot titty and coochie licking. All while you get a pool side view. Enjoy!



$17.00


California Bash 7
6min - 97.9 meg - 720x480


California Bash 7

Ivy Sc1 and ShugarNTexas Sc1 are getting all wet and horny in the shower. See Ivy on her knees tasting Shugar's cookie! If you like showering BBW's then you will love this one!



$6.00


California Bash 8
7min - 106.6 meg - 720x480


California Bash 8

IvySC1 and ShugarNTexasSC1 are playing a fun game. After a few spins the tight black tops come off these gals. Ivy falls right into Shugar's voluptuous coochie! After snacking a bit, the girls just sit and lick and kiss, until they shake their tits to say goodbye. See you next time. Mmmmmm.



$7.00


California Bash 9
4min - 69.6 meg - 720x480


California Bash 9

Lizz Sc1 Is out by the pool soaking up the beautiful California sunshine. A girl this hot has to cool down so while wearing a white tank and some pink shorts, Lizz gets all wet for you! In the pool of course. Off with the clothes!!!! Watch this beautiful water nymph swim naked for your pleasure.



$4.00


California Bash 10
26min - 398.1 meg - 720x480


California Bash 10 Mandy SC4 needed to take care of some business with her naughty sub Blueeyes SG. As she comes home she is furious and walking hard. After finding her submissive slut she takes him to the S&M GARDEN, while making him carry her case of mysterious items… She puts him on the spider web and has her filthy way with him all while smoking her slim cigs. Enough PLAYING AROUND, GET DOWN AND LICK MY BOOTS! NOW JERK THAT COCK AND GIVE YOUR OWNER THAT HOT LOAD! GOOD BOY!



$26.00


California Bash 11
10min - 164.7 meg - 720x480


California Bash 11

Come see Niana SC4 and Blueeyes SG meet in a hot club. Light up your cigs and take off your clothes. Niana is going to satisfy you while smoking and blowing smoke on that hard shaft. Blueeyes loves to pound her hot, wet mouth and then checks her gag reflexes... none here, guys...Grab my head and beat my mouth hard!! HARDER!!!! I want that cock to spit that hot load down my face. Now, kiss me and be on your way!



$10.00


California Bash 12
8min - 128.9 meg - 720x480


California Bash 12

Niana SC4 and ZoeZane SC2 are cute in pink! See these girls on some HUGE rubber balls! BOING! BOING! See their titties bounce with delight as they rub thier clothed kitties on the rubber balls! See them dry hump each other while on the balls! If you like WILD girls this is the vid for you! Just titties and lots of rubbing in this video!



$8.00


California Bash 13
22min - 334.3 meg - 720x480


California Bash 13

Peaches SC3, Madijane SC3 ShugarNTexas SC1, Niana SC4, and Aim2plz SG are all posing for a picture and Shugar couldn't wait and she started rubbing on Aim's cock. FOUR hot smoking gals and ONE hot GENT equals a great time! They all move to the bed and take turn with Aim's hard shaft. See them pull and tug away from each other just so they could have him in their own mouth! If you like a lot of women on one guy whose enjoying getting some great head by 4 wet mouths, then you will enjoy this 22 minute long video!!



$22.00


California Bash 14
7min - 109.7 meg - 720x480


California Bash 14

Samantha SC1 Is all in her room showing her cute pink teddy for you, but it doesn't stay up on for long! Watch her unzip it to release those succulent breasts and quickly show her GOODS. Lots of kitty and dildo action! A must see for you viewers who want to feel like you are the camera man watching her get off in her room!



$7.00


California Bash 15
8min - 132.8 meg - 720x480


California Bash 15

ZoeZane SC2 is stretching out her muscles in the pool. Then she gets that white tank wet as she swims and dances around. Watch as she dives into the shallow end from the pool steps with her bra showing. If you like spying on someone while they swim and dance and get very playful, this vid is for YOU.



$8.00