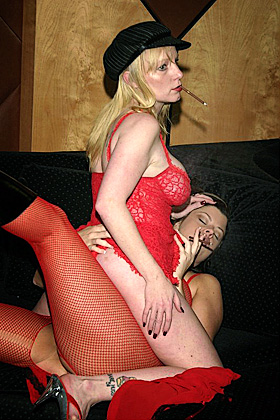 Princess & Tressa SC3
Atlanta Bash II - Part 5

Atlanta Bash II was held in Atlanta during the weekend of February 10-12, 2006. The attendees were Aimeelynn SC4, Austin SC3, BB SC4, Berkley, Buddah SC2, Carmen SC3, Champagne SC1, Charisma SC2, Cowboy4U, Crooked Halo, Curvy Angel SC3, Cutsie SC2, Danielle, Dees Delights SC2, Denise, Devlynn, Devon SC3, Dom Blaque SG, Don Juan, Faith SC2, Fetish Fantasy SC2, Ginger Lee Love, Girl Next Door SC2, Hanna, Hottyy SC2, Kute Kim, Lola SC1, Lorie, Mirage SC4, Miranda SC1, Mystique SC1, Natalya SC4, Peaches SC3, Princess, Sinsation SC1, Snooky SC3, Spanish Rose SC2, Summer SC3, Suzy, Tressa SC3, and Vivian SC3.
There was loads of very hot girl/girl action with a good amount of boy/girl thrown in for good measure. We used a swing club in Atlanta which had some great theme rooms for shoots. Some of the themes were pool hall, dungeon, bar, glory-hole, strip stage and pole, voyeur room, and many more. Be sure and visit the sites of all the Charms and Gents who attended this bash on their respective Southern Charms sites as there were some great shoots going on with some very hot action. All you have to do is click on the Charm's or Gent's name where it appears in this article and you will be transported directly to their individual sites. Each individual site opens in a new window so you can check them out and return back here just by closing the Charm's or Gent's site after you are through looking at it.
There is only one of me so there is a lot of the hot action which I didn't get a chance to capture. That's why you need to visit each of the Charm's and Gent's site to see the hot action that I didn't get. There's still plenty here for you see as well.
Be sure and check for videos by each of the Charms and Gents on the Southern Charms Video Site. Many of these same Charms and Gents also have videos for sale there.
Enjoy!!!